To keep your health in good shape, you should undergo a health screening. By detecting and intervening early, future complications can be avoided and costs can be reduced. Medical screenings offer the best chance of detecting medical issues at an early stage and thus improve treatment outcomes.
Finding out your health status is something only you can decide; however, once you have made your decision, there are many benefits to be gained. As such, health Screening in Accra is organised occasionally by several health institutions, NGOs and Corporate institutions alike.
Chat on WHATSAPP/Call BMC Healthline for FREE Medical & Health Advice NOW: 0554543131
In health screening programmes, certain chronic illnesses can be detected early and treated appropriately. During this process, patient history, physical examinations and tests are carried out to detect disease early. There are several instances where people queue for long hours to undergo health screenings without even knowing the reputation of the hospital carrying the exercise.
As much as knowing your health status is important, you should seek treatment at a hospital that has the right facilities and qualified personnel. Knowing the personnel involved and their hospital also helps to get the right treatment and boosts patients' confidence and allay any fear of information breaches.
These are the Top-three best Health Screening Centers in Accra you can check out.
Bloomingdale Medical Centre (BMC)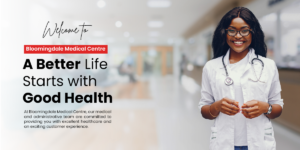 A leading provider of healthcare services in Accra, Bloomingdale Medical Centre is committed to excellent healthcare and delivering a world-class customer experience. With its cutting-edge technology, Bloomingdale Medical Center keeps track of your health screenings by making sure you're handled by highly experienced and qualified medical staff who follow the etiquette of the profession. Having health screening with the centre is worth it because, with their multidisciplinary approach, they provide comprehensive healthcare to all persons visiting their centre.
With nearly a decade in the health sector, Bloomingdale Medical Centre has gained prominence when it comes to using modern technology to augment staff competence. The centres' commitment to quality services has earned them the reputation as a customer-centred medical facility in Accra.
They offer services ranging from general health care, family healthcare, antenatal care, childcare, fertility & maternity care, general surgery, diet & nutrition, pharmacy & laboratory. For screening and other general or specialised diagnostics, the centre can be booked online for an arrangement to be made in the comfort of the customer. With just a phone call, you can receive a free consultation with qualified medical doctors who has time to listen and advise you accordingly. Do check Bloomingdale Medical Centre at Amasaman, Accra.
Korle-Bu Teaching Hospital
Established in 1923, the Korle-Bu Teaching Hospital is Ghana's premier tertiary healthcare facility. Despite its challenges, it is Korle-Bu is the third biggest referral centre in Africa with over 2,000-bed capacity. The Hospital hosts and trains the best medical personnel in the country ranging from different specialities.
Patients looking for health screening hospitals in Accra can visit Korle-Bu for their quality service. They have centres and facilities that are not found in most hospitals in the Country due to their strategic importance in healthcare delivery and serving the nation as the biggest hospital.
Chat on WHATSAPP/Call BMC Healthline for FREE Medical & Health Advice NOW: 0554543131
Nyaho Medical Centre
The Nyaho Medical Centre is a multispecialty medical centre committed to excellent clinical practice and specialist healthcare delivery. The centre has specialized doctors in many areas that work with high standards. The Centre has more than seventy specialists, over five decades of practice and experience, and, more than ninety-five (95%) customer satisfaction. You should check the Nyaho Medical Centre for your health screening as well.
Conclusion
When picking a health screening centre, it is important to do checks to make sure they have qualified staff with modern-day cutting-edge technologies in health diagnostics. Never stoop low and demand for high-quality health screening centre that value their service and customers.
Chat on WHATSAPP/Call BMC Healthline for FREE Medical & Health Advice NOW: 0554543131